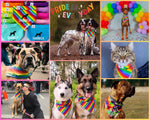 Written by Chelsea Hindle (www.theintellectualcanine.com) 

When Justice Cameron opened her small business gay marriage hadn't even been legalised yet. Byron and Co started as a tiny business venture with a range of bandanas, collars and leads, but quickly grew into so much more. It is a passion project for Justice, her partner Ash, and their eclectic four-legged family. Their mission? Spread love, awareness and inclusivity, all while creating high-quality, durable, and sustainable products. 
"We originally began our Pride range to show our support for our fellow LGBTQAI+ community," Justice explains. "But it meant so much that it stayed with us. I never thought I'd have to fight for the right to legally marry my partner [but] having an outlet of rainbow products for the business has been empowering. We have loved the enthusiasm from the community in response to it."
Justice (and yes, that's Justice, not Justine) has been an entrepreneur and small business owner since she was a teenager. Her first venture was as a professional photographer shooting weddings, events, pets, and basically everything else. However, while at university studying photography, Justice walked into an animal shelter "just to look", and her life changed forever. 
Soon after, Justice walked out of the Geelong Animal Welfare Society with Byron, an adorable Great Dane x puppy in tow.
Byron was named for the great city of Byron Bay, but unfortunately it soon became clear that everyone thought she was a boy. Justice did what any self-respecting dog mum would do and started making lady-like bandanas for Byron to wear out and about.
It worked, and in fact it was highly successful. After several people suggested she start selling her bandanas, Justice opened another small business, this time named after the beloved dog who'd started it all–Byron and Co. 
That was six years ago, and since then Byron and Co has flourished, growing far beyond Justice's original dream. Unfortunately, the world lost Byron herself in early 2022, after a long battle with the many health issues that were a result of her poor breeding. However, Justice and her family are committed to continuing her legacy through the work they've dedicated to her memory.


Justice has always been committed to her values of inclusivity and community and there's nowhere this shows up more clearly than in how she runs her business. "On a business level, we love creating pride products that help people support the communities around them. Being inclusive and helping people express themselves through our products brings us joy." But pride is more than that to Justice. "It means creating a safe community around me, full of people who appreciate me and accept me for who I am."
June is a special time of year for the LGBTQAI+ community. It is a moment to celebrate human expression and identity, and the rights gained during recent decades. It also is a moment of silence to commemorate the wrongs still perpetuated against sexual minorities all over the world, and to remember those who have been lost in the fight. 
Inclusivity and diversity is a year round goal for our society, but unfortunately it often gets forgotten when the Pride collection disappears from the store windows and the rainbow flags are packed away. Out of sight, out of mind, as the saying goes. So, how can we continue to support the wonderful diversity of our world beyond the month of Pride?
Obviously, you can continue to support companies owned by LGBT+ folks. "There's not enough knowledge out there regarding what companies are LGBTQAI friendly," Justice admits. However, some resources do exist, such as Rainbow Flag, a directory of friendly companies around Australia. And support small when you can! Running a small business is incredibly hard work, but the quality is unmatched, as is the feeling of giving back to your community and supporting those around you, rather than faceless megacorporations.
For Byron and Co, Pride is forever and they have a wide range of rainbow products available year round for purchase. One of their bestsellers, and a particular favourite of both Justice and the late Byron, is the rainbow stripe range. The great news is that you can get your pup a rainbow stripe bandana to show off your support or express your identity, and then you can buy yourself a matching scrunchie, lanyard or keyring! The even better news is that Byron and Co are currently running a Pride-themed giveaway over on their Instagram, so you could snag some rainbow goodies completely free.
As Pride Month draws to a close, consider how you can continue to support and encourage the community around you, but particularly the LGBTQAI+ business owners, who are often struggling to make sales, due to the current economic crisis. When you can, support small and shop local.
"Everybody should feel safe and welcome in this world and we believe businesses play a part in encouraging this," Justice says in closing.
"Pride was, and always will be, a staple to our brand."


Written by Chelsea Hindle (www.theintellectualcanine.com)

You can also find Chelsea on Facebook or Instagram!